HiREV
Health Information Record Exchange and Validation
Increase Margins - Enhance Quality of Service – Reduce Risk
Business Challenge
Even the most accurate methods for auditing claims against real health records with skilled personnel do not eliminate fraud, abuse and mistakes. Without a seamless process for understanding where the most likely vulnerabilities are – from request and record submittal, through abstraction, peer review, escalation, accountability and determination – each gap in the process can lead to mistakes, intentional exploitation, capital drain and reduced quality of service.
Solution
ObjectBuilders HiREV (Health Information Record Exchange and Validation) solution automates the entire medical records abstraction, medical record and health information exchange, medical record audit and determination lifecycle. The result is increased revenue integrity, enhanced quality of service and the support needed to identify and recover losses due to mistaken or fraudulent claims.
This seamless, secure, automated web based system will discover where vulnerabilities are between providers and the claims. HiREV can perform blind and double blind sampling reviews and identify where losses are likely to occur and how in depth an audit should be. The solution performs full (or sampled) audit of all (or selected) providers. HiREV has a secure, collaborative environment (1) to identify mistaken (or fraudulent) claims and (2) to distribute workload, peer review and escalation. HiREV also supports revenue recovery, providing documentation to support claim reimbursement. With HiREV you can also identify and document service level enhancements to improve future care.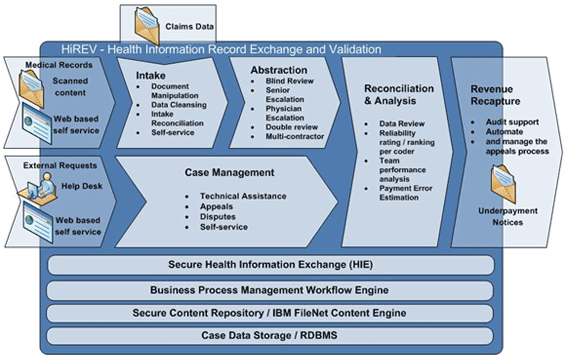 HiREV as a Health Information Exchange Foundation
A core capability of ObjectBuilders HiREV is its ability for secure and transparent health information exchange across disparate vendors and systems. HiREV contains the foundation needed for secure health information exchange and medical record exchange and provides a mechanism for providers, payers, government, and ultimately beneficiaries (patients) to exchange information, while also allowing providers to meet the guidelines for meaningful use.  At its core, the HiREV system utilizes a "Virtual Business Object Model" (VBOM) that facilitates secure information exchange while keeping the system loosely coupled to the data sources.  
HiREV Process Flow and Capabilities
Intake: HiREV provides a web based (wizard) that enables a self-submission, reconciling checklist driven submission process. Multi-channel intake reduces costs by accepting paperless submission seamlessly in virtually any format. It is a one click submission from an automated system request.  HiREV provides a secure medical records exchange - accepting documents from multiple sources and validating before injecting them into a structured, auditable review process.
Case Management: HiREV has a seamless end to end workflow, providing full view of all steps in the process with complete auditability at each step.  With HiREV you can have tailored inboxes, reports and analytics. Administrative costs and compliance risks are greatly reduced with the Unified Case Management Platform.
Abstraction: HiREV has automated or manual task assignment with a 100% audit trail – delegate and securely present tasks and subtasks, collaborate, escalate and resolve.  HiRev also integrates with industry standard records abstraction tools and security products, provides escalation workflows and multi-contractor support.
Reconciliation and Analysis: HiREV has a built-in review process for consistency/reliability checking and reconciling systems, data, processes and relationships. There is full traceability and verification for audit support and real time dashboard and analytics for one click to action. Quality of care is enhanced through the collaborative and peer reviewed abstraction and analysis process.
Revenue Recapture: Use findings from HiREV to determine better treatment options, reduce treatment time and recognize patterns for prevention options.  If a discrepancy is found, a full range of financial recovery options are available: issue invoice, deduct from future invoices, journal entry, and escalate to legal or compliance.  HiREV provides complete traceability and audit support.