Correspondence Management
Business Challenge
Correspondence Management is about managing a request from an external source through a collaborative process and tracking it through to resolution. With federally regulated response times, it is becoming increasing difficult to handle the volume of requests with limited staff. The volume of data and content in the folder can make the case folder difficult to manage and secure. Different requests require different processes and have varying security and access limitations for individuals reviewing the case file or request. The internal resolution process may be difficult, but even more difficult is meeting the time requirements of the response.
Each agency or industry has its own diverse regulations and processes driving the volume of requests. Governments have congressional, citizen and inter-agency requests, as well as the Freedom of Information Act and some industries are processing appeals, claims or complaints. Others are processing internal and external compliance inquiries and audits.
The Solution
To respond to this challenge ObjectBuilders created the Correspondence Management Solution powered by ObjectBuilders Case Management Platform, Enterprise Content Management (ECM) and Business Process Management (BPM). It is flexible enough to start using right away and is capable of growing with no practical limitation. It can be accessed as a Cloud Application or it can be installed internally - fast, secure and practical.
The Solution is divided into three areas: Intake, Case Processing and Fulfillment.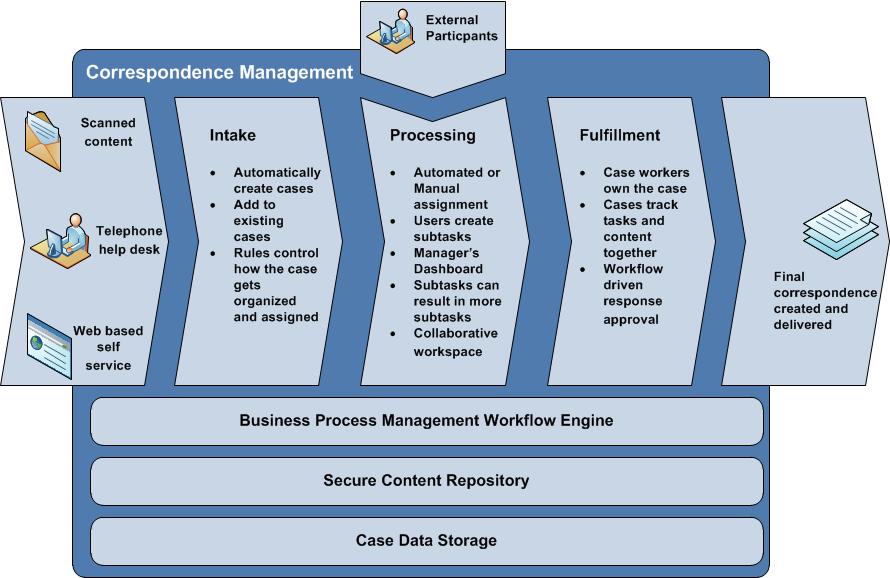 Intake of a request can come from virtually any source including: an easy to use web based wizard, call center, paper, email and more. The requestor can be anonymous or forced to register and create an account. The request starts a case folder or case.
Case Processing begins a collaborative effort consisting of internal personnel and sometimes external parties. The processing rules and case flow is controlled by a visual workflow that can be easily customized, enhanced and maintained. The case consists of both tasks that get created automatically or manually as the case begins or even as it continues through the collaborative process. Content (structured and unstructured) can be added to the case through the process. The tasks are assigned to individuals and can be reviewed and approved by others through any process. The case is not closed until all tasks are completed or approved.
Fulfillment will track the case from the beginning to final response or closure, including status and reporting. Cases can be monitored and reassigned via an executive dashboard to meet service level commitments.
Features
Wizard based self-service submission of requests and content to start a case
Manager assignment and workload balancing
Positive access security model for all content
Ability to track content, notes and phone call logs directly in the case
Process and content centric view of the case
Management dashboard
Ability to invite external participants to submit additional content (email invitations with single click to access content upload)
ObjectBuilders Case Management Platform
Correspondence Management is one of several solutions that are assembled on ObjectBuilders unified case management platform. This same platform is used for enterprise level Licensing, Permitting, Field Inspection, Claims Processing, Financial Services, Health and Human Services solutions just to name a few. The platform is capable of scaling. Solutions can be focused and easily grow as budget, timeline and needs dictate.