IBM FileNet Panagon to P8 Migration
Migrate FileNet Content Services and Image Services to P8 Content Manager
Migrate your entire IBM FileNet environment using one simple, easy-to-use product. The LiveApp FileNet Migration Accelerator is like a set-up wizard that allows for easy configuration of conversion parameters and automation of the full migration process.
Leveraging the same award winning platform responsible for delivering FileNet solutions in record time, ObjectBuilders provides a user friendly interface to select desired criteria and timing for content migration. Choose the desired migration path - migrating at once or over time. After migration is complete, the LiveApp FileNet Migration Accelerator is removed, further reducing the cost.
ObjectBuilders Accelerator Tool for FileNet P8 Migration and Synchronization
ObjectBuilders parameter driven Software Productivity Tool allows document classes and document types to be selected along with the times and dates for the migrations to occur. This productivity tool can also be used for FileNet P8 3.5 to P8 4.x migrations.
The product allows for all of the content, content revisions (versions), document classes, properties, folder structure, security, ACL's and metadata to be selected, extracted and migrated. All while keeping the two systems in synch.
The tool also has automated logging and auditing of all migrated items as well as built-in validation and verification based on IEEE random samplings.
ObjectBuilders knows the value of an organization's content and information. Central to the product is a robust automated security and auditing capability safely and securely confirming that all content was successfully identified and migrated.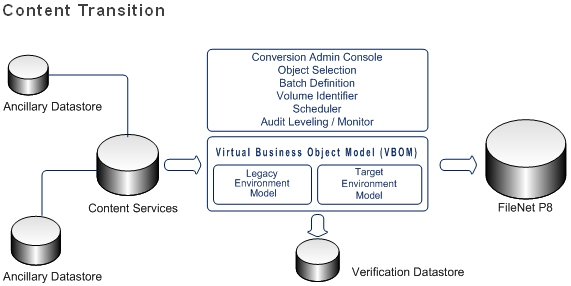 On Your Timetable - On Demand
Migrations cannot be successful if they disrupt the business. ObjectBuilders' tool and approach are designed to migrate the content while allowing the business units and systems to function normally. Automated triggers or events as well as specific validation rules can be created. Additionally, specific times and dates for bulk load and transfers to occur can be created.
The Value
By combining an easy-to-use migration accelerator tool with years of FileNet expertise and best practices, organizations have a low risk/low cost solution for successfully completing their FileNet Panagon to P8 transformations.
As an added value, the migration of applications from FileNet Panagon to P8 can easily be done using the same software productivity tool and connector. This can be accomplished by leveraging the LiveApp Player Accelerator to provide either continuous operation of Panagon applications, or as a vehicle to migrate those applications over time and on your schedule. This strategy leaves an organization with a SOA (Service Oriented Architecture) and allows an organization to remain technology independent. From that point forward, transforming applications to future versions will be as simple as point and click to migrate. Using ObjectBuilders to migrate P8 applications enables organizations to assemble entire business solutions without any code.

The ObjectBuilders IBM FileNet Partnership
ObjectBuilders has been a premier FileNet ValueNet Partner for 10 years. During this period the FileNet and ObjectBuilders teams have worked closely to solve some of the most difficult and pressing ECM issues in the marketplace. Together, ObjectBuilders and FileNet delivered some of the earliest and largest Panagon to P8 migration plans.
| | |
| --- | --- |
| | Powered by FileNet's Business Process Manager and Content Manager. |